WHAT IS LYMPHEDEMA?
Lymphedema is the build up of lymph fluid in the fatty tissue just under your skin which causes swelling (or edema). It is caused by the removal of, or damage to, the lymph nodes of the body. (American Cancer Society) Due to the damage of the lymphatic system, the system becomes blocked and prevents the lymph fluid from draining, which builds up, and causes the swelling in one or both extremities. Symptoms can begin months, or even years, after a surgery or trauma. When diagnosed early, Lymphedema treatment is more successful. Educating yourself, performing weekly visual comparisons, and even monthly measurements of key areas will allow you to recognize the signs and symptoms in their earliest stages. There is no cure for Lymphedema but it can be effectively treated. While most cases of Lymphedema result from secondary causes, there are cases of Primary Lymphedema which we also treat.
EARLY SIGNS & SYMPTOMS OF LYMPHEDEMA
Swelling

Skin tightness

Hardening and thickening of the skin

Aching or general discomfort

Decreased flexibility

A feeling of heaviness

Recurring infections
LYMPHEDEMA PREVENTION & TREATMENT
Excessive swelling, left untreated, can lead to decreased function and mobility of the affected limb, skin breakdown, and infection. However, with the right treatment plan, Lymphedema can be prevented, reduced, or controlled depending on the severity of the condition.
LYMPHEDEMA SERVICES RECEIVED
Complete Decongestive Therapy (VODDER technique)

Manual Lymph Drainage

Lymphatic exercise program

Low tension bandaging

Garment fitting

Skin and wound care

FDA approved L-Dex measurement tool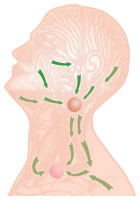 Head and Neck Lymphedema
Head and Neck Lymphedema is a devastating condition that frequently follows surgery or radiation for the treatment of head and neck cancer. Not only can head and neck lymphedema affect the patient's communication and swallowing function, but in severe cases can affect respiration, vision, and even ambulation, not to mention the frustration and embarrassment that accompanies this disfiguring condition (Norton School of Lymphatic Therapy). We perform manual lymphatic drainage to decrease swelling as well as providing measuring and fitting of compression garments if necessary to provide increased functional ability to perform daily tasks.
WHY IS PREOPERATIVE TESTING ENCOURAGED?
Having a baseline clinical assessment before cancer treatment begins allows the patient's medical team to better understand what is "normal" for them. It is then easier to detect Lymphedema very early in its development. Earlier treatment of Lymphedema often means a better quality of life.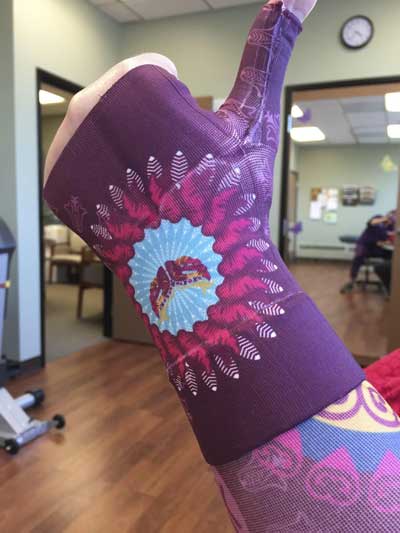 WHAT IS THE L-DEX
The L-Dex is an assessment tool used to monitor and capture signs of Lymphedema in the early stages, before it becomes problematic. This test is indicated for patients post mastectomy/lumpectomy with axillary node dissection, or other cancers with node dissection, such as ovarian, uterine, prostate, or melanoma. This test can be safely run as often as quarterly. Preoperative testing is encouraged to establish baselines of cellular fluid. Breast Rehabilitation and Lymphedema Healing Center is one of the first therapy centers in the State of New Jersey to have this tool.