Optimal healing after mastectomy, lumpectomy, and breast augmentation or reduction
The Breast Rehabilitation & Healing Center (BHRC) provides proven clinical treatments and enlightened integrative modalities for optimal healing after mastectomy, lumpectomy, and breast augmentation or reduction. We provide a unique healing environment for patients undergoing or recovering from breast cancer treatment.
Breast Healing and Recovery After Surgery
Mastectomy and other types of breast surgery impair function of the upper extremity. Weakness and muscle tightness, called disuse atrophy, develop when patients don't use their arms during recovery from surgery. Medical research indicates that women significantly benefit from upper extremity rehabilitation after mastectomy or breast surgery. This specialized therapy restores range of motion, strength and function, allowing patients to avoid upper extremity impairments.
Developed by a Breast Cancer Survivor
BRHC was developed by Kelli Anderson, OTR/L, CHT, CLT, a breast cancer survivor who prior to her diagnosis had already been operating a successful occupational therapy and rehabilitation practice.

OCCUPATIONAL THERAPY
Following breast surgery, occupational therapy helps patients regain function in their upper extremities: shoulders, arms and hands.
LYMPHEDEMA TREATMENT
Complete decongestive therapy (VODDER technique)
Manual lymph drainage
Lymphatic exercise programs
Low-tension bandaging
Garment fitting
Skin, nail and wound care
FDA approved L-DEX measurement system:
The L Dex is an assessment tool used to monitor and capture signs of lymphedema in the early stages before it becomes problematic. This test is indicated for patients post mastectomy/ lumpectomy with axillary node dissection, or other cancers with node dissection, such as ovarian, uterine, prostate or melanoma. This test can be safely run as often as quarterly. Pre-operative testing is encouraged to establish baselines of cellular fluid. Breast Rehabilitation & Healing Center is one of the first therapy centers in the state of New Jersey to have this tool.
View our video on LDEX below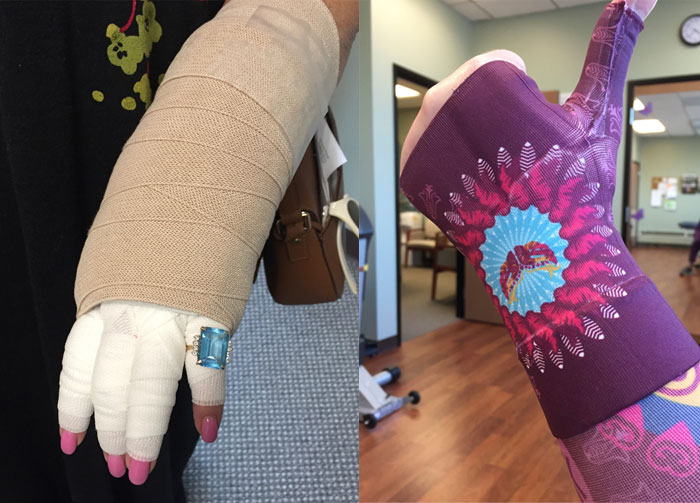 POST MASTECTOMY REHABILITATION
Licensed and trained occupational therapists will work with women as early as 3 weeks post operative mastectomy or lumpectomy in a conservative rehabilitation program to regain range of motion, strength and function of the upper extremities.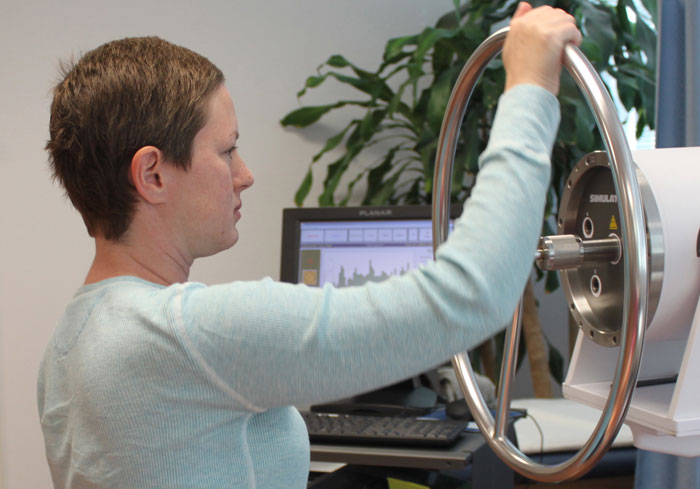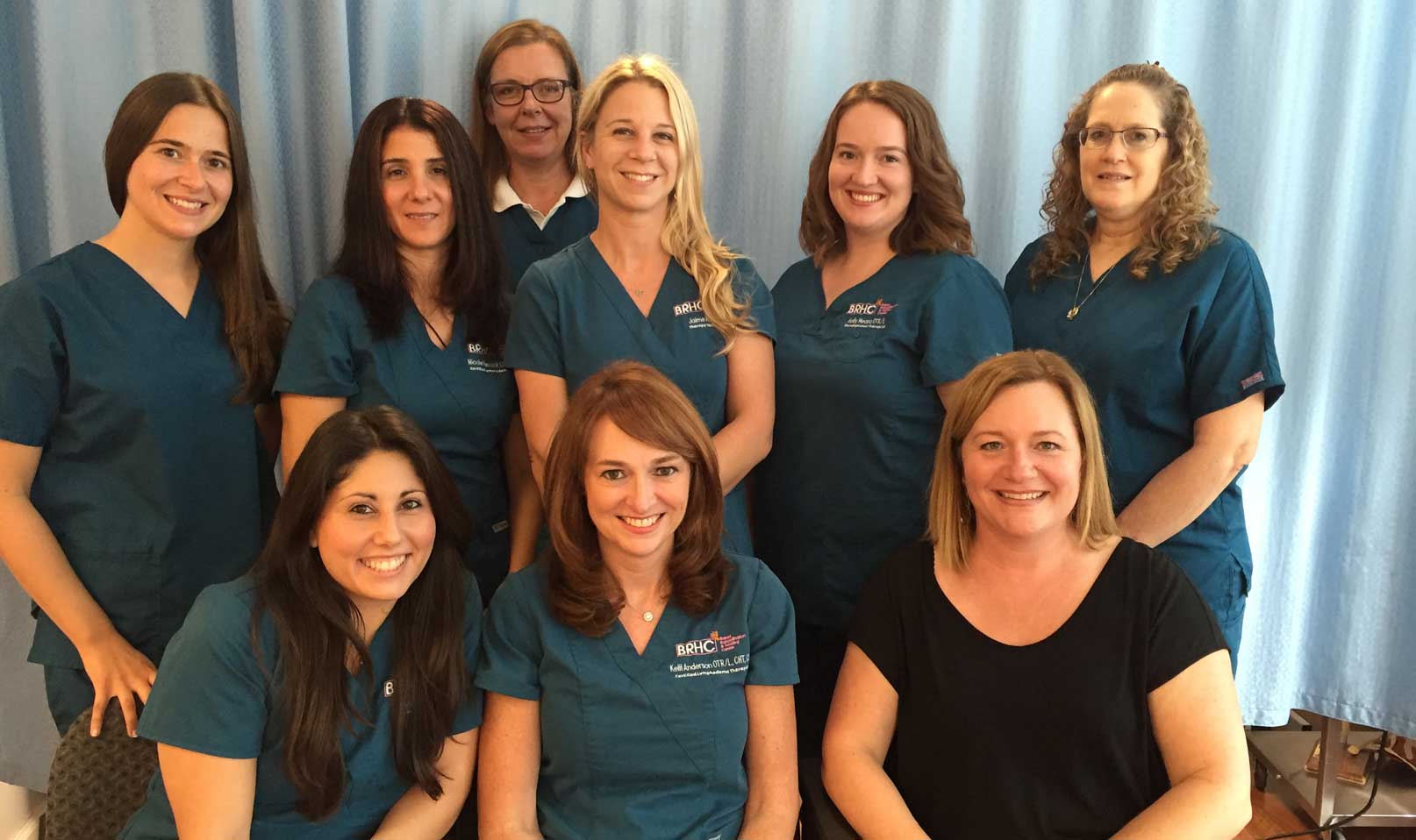 Kelli Anderson is an occupational therapist and certified hand therapist with over 27 years of clinical experience in the hand and upper extremity. She attained a Bachelor of Science Degree at Quinnipiac University in 1989. After her board certification as an occupational therapist, she completed additional training to become a board certified hand therapist.
Kelli is co-owner of Progressive Hand Therapy in Westwood NJ specializing in orthopedic injuries to the hand and upper extremity.
Following her own battle with breast cancer, Kelli became a board certified lymphedema therapist with a specialty in Post Mastectomy Lymphedema Syndrome. Upon completion of this training, she has owned and operated Breast Rehabilitation & Lymphedema Center for the past 7 years to focus on patients suffering from upper extremity Dysfunction as a result of Breast Cancer.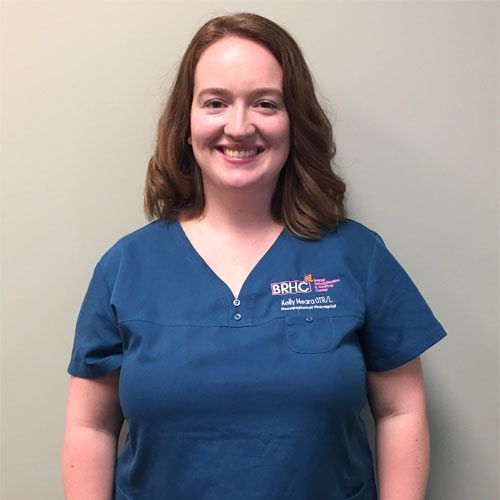 Kelly Meara is an occupational therapist and certified lymphedema therapist. She attained a Bachelor of Health Science Degree in 2014 and a Master of Occupational Therapy Degree in 2015 at Quinnipiac University. She first was a student completing her Level II fieldwork here as part of her Masters degree in Fall 2015. After graduation, she decided to pursue her career working at Breast Rehabilitation and Lymphedema Healing Center in December 2015.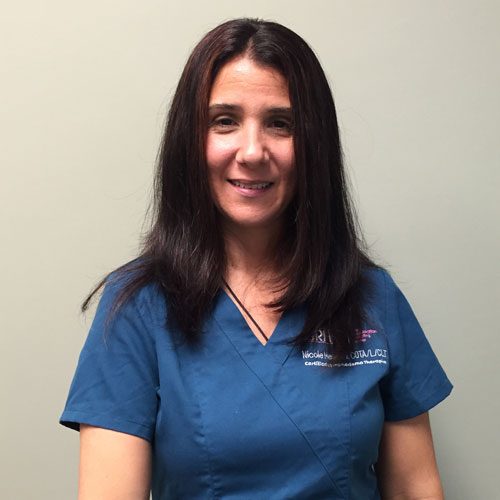 Nicole Messick is a Certified Occupational Therapy Assistant and Certified Lymphedema Therapist. With 16 years experience as a COTA Nicole began working for Kelli Anderson 10 years ago specializing in Upper Extremity Rehabilitation, Breast Rehabilitation and Complete Decongestive Therapy for post mastectomy and Lymphedema patients. In addition, Nicole recently became certified in biomedical therapeutic yoga.
MADDIE LIST

Therapy Technician

ANNA OLIVIERI

Medical Receptionist

JESSICA CAPANO

Therapy Technician

CHRISTY VINSOM

Office Manager

COLEEN SORICE

Billing Manager
MASSAGE THERAPY
For all stages of Cancer
Special People need special Touch
Can Massage help you?
While Massage cannot cure cancer, It may offer much needed relief, enhance your quality of life and make a great contribution to your healing process.
Massage can:
Reduce stress
Provide relaxation and comfort Relieve pain
Minimize the side effects of chemotherapy and radiation
Restore vital energy
Boost immune system- elevate t-cells
Enhance circulation and oxygen
Remove toxins from your body
Decrease fatigue
Provide a feeling of peace and wellbeing
Direct your energies  toward healing
Increase body awareness
Reconnect the body, mind and spirit and most of all
…It just feels good!
Sabine Baumann is certified in massage therapy and medical spa treatments. In 1987 she attended Massage school in the St. Joseph Hospital in Koblenz, Germany, followed by a 1 ½ year residency in a neurological rehabilitation clinic where she gained experience in the rehabilitation of patients with serious brain injuries due to accidents or strokes. Before moving to the United States in 1993 she furthered her experience treating patients with various diagnoses in private treatment centers. After taking a break to raise her three sons, Sabine reentered the work force in 2013. She became licensed as a massage therapist by the state of New Jersey and certified as a lymphedema therapist thought the Norton School of Lymphedema. Besides Manual Lymph Drainage (MLD) Vodder method, she trained in Complete Decongestive Therapy (CDT), which involves among other modalities, compression garments, bandaging and manual therapies as well as Kinesio Taping and Remedial Exercises for Lyphedema patients. Sabine furthered her knowledge and trained in cancer Massage and specialized in Breast cancer treatment.  She joined the BRHC team in 2014 where she very much enjoys working with her Patients who are recovering after the diagnosis and treatment of Breast Cancer with different modalities. In the treatment of Lymphedema which is a long term treatment commitment for all patients, Sabine thrives for individual, optimal outcome for each one of her Patients with the full spectrum of the CDT Program.
Sabine is a member of Associated Bodywork & Massage Professionals since 1998
Forms
Medicare accepted
We work with all commercial insurances
BRHC completed the healing process of my breast cancer. I had issues with the range of motion in my arms and was extremely uncomfortable post-op. I was blown away with the level of care that I received at BRHC. Not only did they restore my range of motion, but also comforted me on an emotional level every step of the way. It felt more like going to a spa than rehabilitation! It's truly an oasis for breast cancer patients.

Closter, NJ

New Questions About Rise in Double Mastectomy Procedures